Click the image below to go to the hompage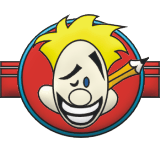 The
Dropdown Menu!
To put the Cartoonist's Connection dropdown menu on your site,
please copy one of the following codes at the bottom of this page and paste it into your website's code.
Preferably somewhere on your main page if possible.
The first line of code will add the non pop-up window version of the menu to your site, which is the same as the sample menu on this page. The second line of code will add the Pop-up window version of the menu, which looks exactly the same as the sample, but will cause a secondary browser window to come up when the "Go" button is clicked.
---
Before deciding to add the dropdown menu to your website, please be warned that there are some Cartoonist's Connection member websites on the menu list that use "adult language" either in their comics, or in some other area of their websites. So if you do not want your website linking to sites which contain adult language, then you probably should not participate in the dropdown menu link exchange.
---
Please take note that in order to maintain your link in the dropdown menu, the menu must be showing somewhere on your website at all times. If at some point, for any reason, you decide that you no longer want to participate in being a part of the menu list, please E-mail me and let me know, so that I can remove your site's link on the menu. Please do not remove the menu without letting me know that you plan to do so, because simply put, doing this is really not fair to the other participants who are still linking to your site via the menu, and are no longer recieving a reciprical link from you. Also, please inform me of any changes to your website's address. (ie: you moved your site to a new webhost, you purchased a domain name, your domain name is no longer owned by you and in turn is not linking to your website anymore). Thanks.
---
"Non pop-up window version"
---
<script language="JavaScript" src="http://www.poetink.com/menu.js"></script>
---

"Pop-up window version"
(Best for webmasters who use frames and do not like to load offsite content within their frames)
---
<script language="JavaScript" src="http://www.poetink.com/menu2.js"></script>
---