Last Updated 9/18/00
.
.MEMBERS
(Q-T)

"Questionable Tales"
Site URL
"Daily dada from the percolating pissjar of pandemonium"
Updated: daily
Email: lockwood_n@yahoo.com
---
"Random Axe of Kindness"
by Andy Simmons


"Recipe for wackiness: One goth kid. One geek. One corporate coffee droid. One... whatever Tyler is. Shake well, pour down pants. Chill. Serves an infinite number."
Updated: Every Wednesday
Email: randomaxe@nc.rr.com
---
"Rat and Guy"
by John West


"A fat Rat, a dumb Guy, and their pothead roomie - college as usual."
Updated: daily
Email: johnwestlsu@hotmail.com
---
"Ratch"
by Richard Howell and Corey Gose


"Ummmmmm......two guys with weird names i guess......."
Updated: once a week
Email: oryg@ignmail.com
---
"Reality High"
by Geoff Willingham



"Currently in the Jeremy storyline based around a suicide attempt; future sotrylines may be funnier and lighter."
Updated: Weekly
Email: bigeoff@mac.com
---
"Richard Glynn Cartoonist"
by Richard Glynn


"Online portfolio of this talented and inexpensively comissionable cartoonist. Enjoy!"
Updated: Not Much!
Email: richard@richardglynn.freeserve.co.uk
---
"RIOTCOMIX"
by Andrew
Site URL
"ALL TYPES OF COMICS: -Comedy -Twisted,tormented,JHTM and Spawn Like ALL TYPES OF COMEDY: -Headlines -Parodies and Spoofs of Movies and Stuff -JOKES MADE BY ME:D "
Updated: my updates are on deviantart now
Email: method_6000@hotmail.com
---
"River and the Weird Kid"
by Matt Atkinson
Site URL
"A free all-ages comic strip about the oddness of growing up. No ads or popups, and non-registration messageboard."
Updated: weekly
---
"Robin Hood Comics"
by Robert Blake
Site URL
"A humorous look at medieval times."
Updated: infrequently
---
"RPG BLUES"
by Peter Delgado Jr.


"because rpg's really need to be made fun of...seriously"
Updated: twice a week
Email: va300@aol.com
---
"Rukoyu the Snob Killer"
by Kartos
Site URL
"The stupid and snobby are taking over world. Society needs to be taken down. Will you be a patirot of reality?"
Updated: usualy every tues and thurs
---
"Sacred Blood"
by Dash and Tammy


"They are after the Sacred Blood and they will do anything to get it. This manga is about a young elf girl named Sheela who runs into a vampiric drow. He tells her his name is Tora and before they know it they are in some really big trouble. You see the problem is people from Sheela's town, Shiroba, aren't very fond of vampires lurking around. A hilarious, adventurous, fantasy manga in full color and updated weekly."
Updated: At least once a week
---
"Sanctuary"
by Tony Sarrecchia


"Dark strip about the Order of the Dagger and the Cross, a paramilitary arm of the Catholic Church, and its battle against the Unnatural Order. Sort of a Buffy meets the X-Files."
Updated: Monday - Wednesday - Friday
Email: tsarr@instantlink.com
---
"SCATCAT & Sweetbones"
by Melissa Malisia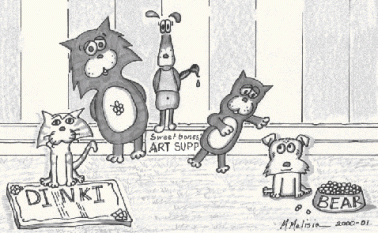 "Goofy SCATCAT and lovable Sweetbones. Family oriented fun!"
Updated: Weekly
Email: rmalisia@cillnet.net
---
"The Scooter Brothers"
by Chris Rainer



"A single panel cartoon showing how extremely weird our little planet really is!"
Updated: Daily
Email: christoph_rainer@hotmail.com
---
"Scrag Ends"
by Brian Hughes


"Scrag Ends is guaranteed to bring you out in shingles. Replaces lost hair within minutes. Causes blindness in one eye. Banned in every country in the world except Wales."
Updated: Every two days...sometimes every day.
Email: scragends@btinternet.com
---
"Scribble"
by Neo Fox


"Cute lil furries, with big shimmery eyes, curious lil faces and dainty lil paws hold B.M.F. GUNS!!"
Updated: every 2-3 days
Email: deklof@home.com
---
"Sean Thorne Cartoons & Illustration"
by Sean Thorne


"Sean Thorne Cartoons and Illustration specializes in freelance cartoons and artwork for websites, brochures, newsletters, businesses, greeting cards, gifts, products, magazines and much more."
---
"Second Nature"
by Dave



"Don't read this comic or you will explode. okay, i warned you..."
Updated: Weekdays
Email: dave2n@hotmail.com
---
"Shape-Factory Comics!"
by JD
Site URL
"Mike is one sick puppy.He goes by the 5 b's! beer,babes,butts,breasts,and bongs!"
Updated: weekly
Email: captainclam2000@aol.com
---
"Shoot Me Now"
by James Kerr


"Shoot Me Now is more about a state of mind than a place or specific characters. Stars a frequently changing and increasing cast of adults, children, and talking animals and food products, this strip has tried to avoid easy description for years. Fans range from children, to college punks, to those detained in mental institutions."
Updated: mon-fri
Email: james@shootmenow.com
---
*sigh*
by Obsidiana Lodestar
Site URL
"A cute little quasi-goth girl explains why she isn't goth and lives through the problems of having more than one lunchbox."
Updated: almost every friday
---
"Silly Fox And Dawg"
by Sillyfox
Site URL
Updated: every 2 days
---
"Simpletoons"
by Craig Eyles and Jim Crane
Site URL
"cartoons, strips and greeting cards as subtle as unlubricated brick suppositories, by two mental deviants for the morally challenged."
Updated: weekly...sort of
Email: seyles@btinternet.com
---
"Skitzo"
by Skitzo
Site URL
"Your mind is belongs to me my little noggins. come meet the skitzo's."
Updated: twice weekly
Email: ping@la.com
---
"SlapOut"
by Larry Burditt & Roy Boney


"A possum as the police dispatcher! An anorexic pig! A cult of chickens! What is this weird place?? Itís SlapOut of course! Now get your ass over there and read it!"
Updated: weekly
Email: comic@slapout.net
---
"Slumberbrain"
by Timon Tupper
Site URL
"A bizzare place with strange characters and a somewhat odd sense of humor to it all."
Updated: every Sunday
Email: timon1970@hotmail.com
---
"Smapdi"
by EteRock


"Talking soda cans, cults, drug runners, a man with no name, living in a (former) crack house, annoying singers, and a pycho teacher that makes you do push-ups if you spell his name wrong. Ah it's not a wonderful life."
Updated: Monday-Saturday
Email: smapdi@eterock.net
---
"Smokin' Pony"
by Roy Boney, Jr.
Site URL
"Pony's can smoke pipes as well as any man. And pony's are oddly funnier than mankind. Read the Smokin' Pony!"
Updated: three times a week
Email: pluginboy@yahoo.com
---
"Snow-covered Fur"
by Alessio Scalerandi


"Scale's furry comics online."
Updated: Weekly
Email: chaos.drake@libero.it
---
"S.o.S.-Swordsplay on Schoolgrounds"
by JP Valbuena
Site URL
" A janitor Ninja, a gangleader with the weirdest of Hairdoes, a Pre-School teacher that is only a minor, and a world of fear and danger..."
Updated: once or twice a month
---
"Spamby - Freakin' Naturality"
by Henry G Angeles
Site URL
"Spamby is an underground creature full of wit and humor. He lives in Easterville where freedom is different. He is a goth character who loves everybody. Email me for more infos."
Updated: monthly
Email: < a href=mailto:kentrock@edsamail.com.ph>kentrock@edsamail.com.ph
---
"Spare Change"
by Warren



"Find out what happens after college. But before you get responsible."
Updated: 5-7 days a week.
Email: Warren@PoorlyDrawnComics.Com
---
"Spifficated!"
by Wardell Brown


"Has the whole world gone nuts...or is it just you? Find out at the only place where nonsense makes perfect sense."
Updated: weekly
---
"Spots"
by Einar


"A strip about a young, struggling poet, set in a fantasy world"
Updated: Daily
Email: einar@lundentoons.com
---
"Spouting Nonsense"
by Mike South



"Instructions: 1) Go there. 2) Laugh. 3) Repeat."
Updated: M-F
Email: mike@spoutingnonsense.com
---
"Square and Rhomboid"
by James Olson


"I bet you've never wondered what it's like to be a 2 dimensional highshcool student, but your about to find out."
Updated: Every other day
Email: jro2000@prodigy.net
---
"squinkers"
by Sandra Lamb
Site URL
"A sniddley daily strip about life in a country bed & breakfast. Slightly dry and tweakish humor with overtones of spledoforous grimble."
Updated: Five days a week
---
"STAR JAM, THE COMIC STRIP"
by andre brooks



"STAR JAM, IS A SCI-FI COMIC STRIP ABOUT A BUMBLING STAR SHIP CAPTAIN AND HIS CREW."
Updated: two times a week
Email: brooksandre4@aol.com
---
"Steam Powered Walrus Review"
by Bob Cochran
Site URL
"Bizarre one-panel gag cartoons by Portland, ME cartoonist Bob Cochran"
Updated: Monthly
Email: walrusdentures@yahoo.com
---
"Stick Battle"
by Andy Schiffman
Site URL
"Two stick figures battling ignorance in gaming, computers and any other major media event"
Updated: twice a week
Email: andy@stickbattle.com
---
"Strange Breed"
by Steve Langille


"Wacky, off beat single panel cartoon. "You'll laugh so hard you will PRAY for it to stop!!"
Updated: Right now, three times a week, Wed, Fri & Sun.
---
"Studio69"
by samsudin
Site URL
"caricature studio69 drawing comic sketch and tutorial"
Updated: weekly
Email: mystudio69@yahoo.com
---
"Styrofoam Peanuts"
by Brian
Site URL
"For those of us who know the truth about sasquatches...Styrofoam Peanuts."
Updated: an average every 2-3 days
Email: Styrofoampeanuts@hotmail.com
---
"Super Jr 2.0"
by R S Tanner


"Sex Drugs Rock & Roll and spontaneous human combustion"
Updated: M/T/W/T/F
---
"Tales of the Questor"
by Ralph Hayes Jr
Site URL
"The adventures of a young starry-eyed hero-for-hire... who's in for not quite what he expects in his new career..."
Updated: weekly
Email: blue27a@ntelos.net
---
"T.A.P. Comics"
by Dan Minut


"Comics for the Anime/Gamer and other unusual creatures."
Updated: 4 x per week
Email: dminut@animefest.com
---
"terminal"
by jenscripter


"...everything has an end"
Updated: weekly
---
"Tes da Barbarian"
by k0ba


"The Twisted world filled with crazy barbarians, panzy elves, deadly robots, carebears, aliens, sexy amazon lesbians, smurfs and a slew of other characters just dyin to meet you."
Updated: Daily (almost)
Email: k0ba@home.com
---
"Thanks For Nuthin"
by Brad Fitzpatrick


"A fresh new daily online comic strip about the unfortunate, intellectually deprived. A must see!!"
Updated: daily
---
"3rd Wish, Your Half"
by Terry


"My pen name is The People's Cartoonist. I write and draw two original, funny, and free online comics: 3rd Wish & Your Half. Please let me know what you think. Thanks!"
Updated: Once every 2 month
Email: tpc@timedisorder.com
---
"34 Frederick"
by Caz El CAPO



"34 Frederick - Online Comic for the Demented."
Updated: Once a day/week
Email: theburden@hotmail.com
---
"TIKIcoMIX"
by Shane Hebert


"TIKIcoMIX houses a growing number of comic projects in many different genres. But some things never change. Their all original, independent, free, and chock full of that TIKIco charm."
Updated: Several times a week
Email: grandmasterotherguy@tikico.i-p.com
---
"Timmy and Ratchet Adventures"
by Michael Patrick


"The adventures of a boy and his robot as they journey through time and space."
Updated: Weekly (sort-of) on Mondays
Email: ifwhenpress@aol.com
---
"Tonintoons"
by Piero Tonin


"Big butts are my forte."
Updated: Once a week
Email: piero@pierotonin.com
---
"Toontoons"
by Joe McKeough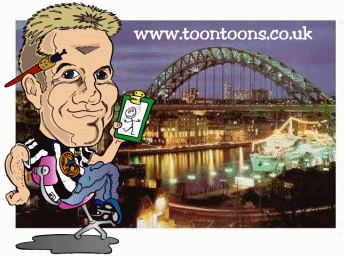 "Freelance Cartoonist Joe McKeough, based in Newcastle, England. For online caricatures, cartoons, strips and much more! Come take a look...."
Updated: every 2 months
Email: boxofrogs@aol.com
---
"Top Secret Toons"
by Nathan Fast


"Hilariously offbeat single panel cartoon brilliantly drawn in beautiful black and white! =) "
Updated: Weekly
---
"Townies"
by Ben Thompson


"The line between fantasy and reality is blurred... in college, anyway."
Updated: Daily
Email: Thompson@townies.8m.com
---
"turbochubs.com"
by Gerald Neuhoff
Site URL
"turbochubs.com : illustration, comics and pure turbonium"
Updated: every few weeks or so
Email: turbochubs@sbcglobal.net
---
"Turk and Frog"
by Jerry Shamblin



"A comic created on a fly."
Updated: Daily
Email: jshamblin@hotmail.com
---