Last Updated 9/18/00
.
.MEMBERS
(U-Z)

"UFOs and Water Balloons"
by Scott Hepting


"An offbeat comic strip about three kids who play pranks on each other and run into aliens and such."
Updated: periodically
---
"Under the Lemon Tree"
by Ralph Hayes, Jr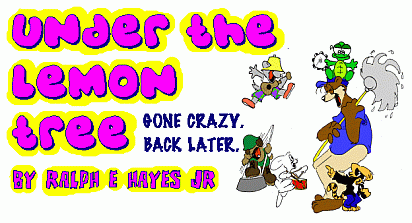 "A bluecollar bear and his anthropomorphised subconscious. Slice of life.... with a twist."
Updated: three times weekly (on regular schedule)
Email: blue27a@ntelos.net
---
"Unfamiliar Destiny"
by Dina


"An online webcomic about a powerful goddess's life."
Updated: Once or twice a week.
Email: dragoness47@aol.com
---
"Untitled Again"
by Paul Roustan


"The story of a college art student who discovers that whatever he draws comes to life."
Updated: tri-weekly
Email: rtist54@hotmail.com
---
"Vampire Phantasm"
by Sarah


"An anime style comic series starring Jack Darkness and many others! Lots of Vampires."
Updated: Once or twice a week if not more.
---
"Victoria Drive"
by Bill Ackerman



"American life for this millennium. A daily comic featuring a family of, for lack of a thesarus, eclectic losers. Scripted by a cartoonist who occassionally gives away free promotional merchandise to bribe you, the reader, to continue reading."
Updated: Monday through Friday
Email: rrrileycat@aol.com
---
"Wallop"
by Steve Ogburn


"Fantasy comedy-adventure about a fun and reckless Dwarven prince!"
Updated: 3 times a week
---
"Wander"
by Tim Tanner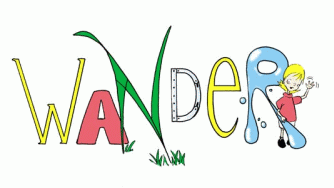 "Wander: a comic strip about a little girl with an extensive wardrobe of personalities, passions and beliefs...but only one set of clothes."
Updated: 1/week
Email: wandercomic@yahoo.com
---
"Warp Zone"
by John Hurst
Site URL
"A college freshman, a recluse psycho, and a.. Slime... Put them all into a dorm and wacky game hijinks ensue! ... Wait, it's not a NBC sitcom! Come back!"
Updated: Every Monday and Friday"
Email: MakoReno@aol.com
---
"WeedPatch"
by Justin Jennings


"Join in the zany antics of a young boy, named Hewitt Hamilton, and his friends, in this daily comic strip called the WeedPatch. (Warning: This comic strip has content, known to the State of California, to cause bursts of laughter. Use daily or only as directed. Apply liberally.)"
Updated: Daily
Email: Hewitt@jpjennings.com
---
"The Weird Worlds of Pewfell Porfingles"
by Chuck Whelon


"Far out fantasy tales set in a long ago future."
Updated: Daily (Mon - Fri)
Email: chuck@pewfell.com
---
"Wheel of Death"
by Pissant & DickTrain


"'We Will Shit On You.' Extremely slacking comics that are so bad . .they're good!"
Updated: Every Tuesday and Friday
Email: dick_piss@hotmail.com
---
"Wild Kingdom"
by Geoffrey Pagnotta
Site URL
"Wild Kingdom is about a dog and tiger in Japan it's off beat and very different."
Updated: everyday for now
Email: morokiane@excite.com
---
"Willie"
by Tom Pagels
Site URL
"A little girl who's ambition is to be the next president of the US strong will, opinionated and can handle herself including her man counterparts"
Updated: periodically (just gettings started)
Email: tpagels@gdsys.net
---
"The WillyTee Cartoon Page"
by Bill Teitzel
Site URL
"The site consists of several humorous cartoons about general items and past 'on the job' humorous experiences in my career."
Updated: weekly
Email: teitzelfamily@earthlink.net
---
"WILLY"
by Peter Delgado Jr.


"WILLY is an on-line comic book site about life in the arctic and the determination of one penguin trying to keep his flock safe from predators."
Updated: monthly
Email: va300@aol.com
---
"Wonder Temp"
by Bill Kelly
Site URL
"The comic strip adventures of the world's greatest temporary employee. Also includes other cartoons and caricatures by its creator, Bill Kelly."
Updated: weekly
Email: billkelly2790@hotmail.com
---
"World of Fizz"
by Robert Blake
Site URL
"A cartoonist fox and his family."
Updated: Three times a week.
---
"Writer's Block"
by Barry Corbett



"You write the caption contest."
Updated: weekly
Email: Barry@corbettfeatures.com
---
"Yin And Yang"
by Jess Idres


"Romeo and Juliet it's not. Instead you get a modern, if strange look at college life from the eyes of Witch and a werewolf who are anything but ordinary."
Updated: Mon, Weds, Fri
Email: jidres@yahoo.com
---
"Yingling Productions"
by Steven Yingling
Site URL
"Humorous cartoon illustration and panels"
Updated: every couple weeks as I get new material to post
Email: yinglingproductions@excite.com
---
"ZACK -n- Frank"
by Bob Duffy


"Weekly comic strip featuring ZACK and Frank...fuugettabowwwit!"
Updated: weekly
Email: Borga2001@aol.com
---
"Ze_mad_kid show"
by Jessie Alvarez
Site URL
"This is ze_mad_kid show. Some of this stuff is based on my real life."
Updated: everyday
Email: ze_mad_kid@yahoo.com
---
"Zortic"
by Mark Mekkes


"Zortic... Not your average little green man in a flying saucer."
Updated: 3 days per week
Email: zortic@yahoo.com
---