Last Updated 9/18/00
MEMBERS
(A-E)

"ABC Toon Center"
by Jack Armstrong


"What happens when the toons run the website?"
Updated: Weekly
---
"Acid Reflux"
by Emily Bingham and Dan Panamaroff

"Read it or God will smite you."
Updated: Daily
Email: em_the_great@hotmail.com
---
"Adam Bomb Daily Adventures"
by Andy Fish


"Sometimes serious, mostly silly adventure comic featuring Adam Bomb and a wacky cast of characters including Lucky Cat, Dan The Plumber, Lady Hades and many more!"
Updated: Daily
Email: Bluemonkeycomics@aol.com
---
"adventures with seth"
by c mciver
Site URL
"adventures with seth is a single panel cartoon by sircrayons"
Updated: weekly
Email: sircrayonsthegreat@hotmail.com
---
"Aford"
by Aaron Riddle



"Following the wackky and wild adventures of Aford T. Turtle and his forest pals!"
Updated: Every Tuesday, Thursday, and Saturday
Email: afordturtle@earthlink.net
---
"A Gallery of Cartoons"
by Arnie Gatton
Site URL
"A creative and funny panel cartoon. Updates Tuesday, Thursday, and Sunday"
Updated: Tuesday, Thursday, and Sunday
Email: aagatton@interl.net
---
"Agucho"
by Julio H Molina-Muscara


"Don't miss Agucho's adventures with the Unknown! Also in Espaņol."
Updated: Mondays, Wednesdays and Fridays
---
"ALGERNON'S DILEMMA"
by Jim Alexander



"A satirical, daily parody of comic strip serials. "
Updated: 365-days-a-year
Email: jalex@algernonsdilemma.com
---
"Alice Otter"
by Miguel Estrugo


"Adventures of Alice Otter, a young otter girl, and her family and friends, set on the imaginary town of Liroland. A very tender look at childhood, the time when everything is amazing and worries are minimal."
Updated: Right now, it's weekly.
---
"AL: Alien Lifeform"
by Bryan Rainey
Site URL
"An alien from the planet of Zurtag, "Al", adjusting to our culture while being protected by a human family, the Williamses."
Updated: daily
---
"Alteu"
by Daniel Miller
Site URL
"It's honest laughs. Jump into the world of Alteu and read comics that will make you think."
Updated: 3 times a week
---
"Ancient Messages"
by Katherine Nelson


"Not funny, but epic and visually stunning."
Updated: 7 days a week
Email: shiro@zensearch.net
---
"Angus and Phil"
by Annie Taylor-Lebel


"A fresh and funny look at The Facts of Life as they`re seen through the eyes of two offbeat family dogs."
Updated: 3 times per week
Email: angusandphil@videotron.ca
---
"Ankle Biters"
by Emyr Bateman
Site URL
"A group of 8-year olds with serious imagination overload in school, the playground and at home!"
Updated: 2 - 3 times a week
Email: emyr@amtraxdesign.co.uk
---
"Aren't We Real"
by Case Yorke


"Life in our modern world is as crude as these drawings."
Updated: Monday thru Friday
Email: case@altbrand.com
---
"Arrmac's World"
by Richard McDavid


"Click here for cool cartoons! Arrmac's World is full of amusing little pictures and funny words suitable for all ages."
Updated: Once a week
Email: arrmac@aol.com
---
"Ars Comica"
by Stefano Baratti


"The serious art of the humorous single panel by Stefano Baratti"
Updated: 3 times a week
Email: stefano@arscomica.com
---
"Artless Bart in Space"
by Charles Barouch
Site URL
"Join Artless Bart and the crew of the colony ship Bernadette as they search for a new home. Please submit your Art4Bart!"
Updated: Weekdays (M-F)
Email: ICwhatUmin@HumotyDumptyWasPushed.com
---
"The Art Department"
by Michael D. Smull


"The Art Department is a weekly web comic strip about a group of wacky artists working at an in-house art department for a promotional advertising company."
Updated: Weekly
Email: mike@mikestoons.com
---
"aswiniabani"
by Aswini and Abani
Site URL
"let us take the charm of the clash between a conservative and a modern mind in 'cousin brothers'"
Updated: monthly
Email: aswiniabani@rediffmail.com
---
"Atomic Butts Comics"
by Bryan Richards
Site URL
"Atomic Butts Comics is currently a one man show. I do 3 different comics. Two are inked and one is a sketchbook comic. Pectorial Pec Man is a comic based around a superhero with some abnormal powers. He has extremely large prehensil pecs that also have some other hidden powers. He is the only superhero with a secret identity for his secret identity! See, when he's in his daily life he must cross dress or else people will know that he is Pectorial Pec Man! Great reading for the whole family! This and others at the site."
Updated: daily
Email: funkymotha@yahoo.com
---
"Aurora City"
by jokergirl


"An online Scifi Odyssey by ah!art works. (jokergirl). All rights reserved, DUH!"
Updated: once or twice a week
---
"The Backyard Adventures of Moe and Ron"
by Jeff Paige


"Two best friends, a tree fort, and the occasional de-pantsing."
Updated: MWF
Email: thatguy@jeffpaige.com
---
"Bandwagon Comics"
by Simon Fox


"Jed, Cory, Cat, and l337!, a webcomic with a difference (and a talking chicken, but visit anyway)"
Updated: Mondays, Wednesdays, Fridays, and Saturdays
Email: webmaster@bandwagoncomics.com
---
"Bangsboy"
by Sean Walters


"A boy, a girl, a dog, a devil and an angel...interested?"
Updated: every m, w, f
Email: chibibangsboy@aol.com
---
"Ban the Basics!"
by Tariq De Vore


"Comic about techonology obssessed 6th graders."
Updated: 6 times a week
---
"The Biggles"
by Mike Freeman
Site URL
"The world as seen by young,intelligent,quark filled neurotic cousins. There's a little Biggle in all of us."
Updated: daily
Email: mefreeman@itol.com
---
"BlackRage"
by DJuxtapose and Beltane


"DJuxtapose and Beltane bring you the funny. And lesbian ninjas. With guns!"
Updated: twice a week
Email: brcomic@hotmail.com
---
"Blue Moon"
by Terry Pearson


"Simply paranormal."
Updated: 3 times weekly
Email: beelineportal@bluemooncomic.com
---
"Blunderclod! - Adventures of the World's Clodiest Hero"
by Susan Marie
Site URL
"Join Blunderclod as he battles the forces of evil in his own bumbling fashionable way."
Updated: M-W-F and special event days.
Email: ,a href=mailto:blunderclod@aol.com>blunderclod@aol.com
---
"BONES Comics"
by Ed T. Toton III


"A silly, satirical, and extremely punny undead comic strip. Enter at your own risk; We're DYING to have you! Muahahaah!!"
Updated: MWF
---
"Boohville"
by Pierre Paquette



"Yes you are now in the presence of one of the newest most funny entertaining online comics in the history of amazing cool stuff! Come now and definitely come all as you are all welcome!!!"
Updated: weekly
Email: boohville@freebeeweb.com
---
"Boys & Girls Club"
by Brian Young


"Obsessive teens and their friends proving that boys don't need girls."
Updated: Three times a week
Email: mobius5@juno.com
---
"Brainfries"
by Smilodon


"The Sabretooth catgirl college adventure comic."
Updated: daily
Email: the_smilodon@hotmail.com
---
"Burnt Dog Radio"
by R S Tanner


"Pop culture and politics gone horribly wrong."
Updated: Every Monday/Wednesday/Friday
Email: robb@tannline.com
---
"Buster"
by Frank Bernard


"A comic strip about a skateboarder,his punk rocker wannabe best friend,and his junk food junkie doctor."
Updated: Daily
Email: frank@bustercomics.com
---
"Cafe Meg"
by Mitsy


"This is a cartoon series about funny folks in a little town living their own lives, no matter what the rest of the world says."
Updated: weekly
---
"Callie"
by Rich Hunter



"The life of my on-line web site navigator that I constantly aggravate. She has a bit of a sarcastic side but she is really pretty lovable."
Updated: Periodically
---
"Captain Ribman"
by Sprengelmeyer and Davis

"Captain RibMan Comics,
featuring Captain RibMan and fabulous celebrity guest stars."
Updated: Weekly
---
"Captain Senility"
by O'Hare


"My drunken excuse for a physics teacher immortalized on the 'web... Because revenge is a dish best served in four panels."
Updated: Weekly
Email: its10notx@yahoo.com
---
"CARNIVOROUS CARTOONS"
by GLENN GORDON
Site URL
"one panel cartoons,e-cards and more"
Updated: weekly
Email: glegor@wildapache.net
---
"Cartoonart"
by Colin Hamilton
Site URL
"Website showing and offering services of cartoonist Colin Hamilton. All artwork is original and drawn specially for clients needs. Various types of cartoons offered."
Updated: monthly
Email: colin@cartoonart.org.uk
---
"Cartoonfix.com"
by john kurtz
Site URL
"Have you had your Cartoonfix today?"
Updated: daily
---
"cartoonpeople"
by Smoik
Site URL
"it's really cool"
Updated: every day
---
"Checkerboard Nightmare"
by Kristofer Straub


"An adventure in unkept promises"
Updated: MWF
Email: checkerboard@nightlightpress.com
---
"Chronicles of a drow sorceress"
by Kern


"Story of a young drow girl strugling against fate. Deep single thread storyline. Full CG color pages, update 3 time per week. Fantasy oriented manga."
Updated: 3 time per week
---
"Chuck's Toons"
by Chuck Wiley


"Diverse signle-panel gags about everything (I lack direction)."
Updated: weekly
Email: cartoonprophet@aol.com
---
"Cloning Around"
by Dave MacLachlan


"Clones, creatures, monsters and mutations who have escaped from a genetic engineering lab and the Slightly Miffed Scientists who created them."
Updated: Sporadically
Email: Dave@CloningAround.com
---
"Coffee Spill"
by Kevin Coffee
Site URL
"Coffee Spill, by Kevin Coffee, is a single-panel cartoon found only at www.coffeespill.com."
Updated: Weekly, or so. Usually.
---
"College Sux"
by Justin Hewelt
Site URL
"College life and all it's glory"
Updated: 3 times a week
---
"Commander Kitty"
by Scotty Arsenault


"Read Commander Kitty. Thank you citizen."
Updated: Every 5 days
Email: scotty@commanderkitty.com
---
"CooperToons"
by Chip Cooper


"Cartoons about anything - science, business, medicine, law - and even the Old West"
Updated: Five Days a Week
Email: chip@coopertoons.com
---
"Corbett Features"
by Barry Corbett & Brian Codagnone



"The Corbett Features site is home to 5 Comic Strips, all updated weekly: Rafferty, Misfits, Star Crossed, S1019 and Writer's Block (a caption writing contest)."
Updated: Twice weekly
Email: cdesign@ma.ultranet.com
---
"Crews Toons"
by Dave Crews


"Cartoons and illustrations by David Crews."
Updated: sporatically
Email: DaveTooner@aol.com
---
"Crowbar of Righteous Indignation"
by Josh Pittman


"No actual crowbars here. Not many anyway. Okay, none at all. It is just a comic about a group of Georgia Tech students and The Devil. See our witty banter as we eat, drink, sleep, play games, and occasionally do something class related."
Updated: Three times a week (MWF)
Email: colossal@publicstoning.com
---
"Cruelcomics of Carlo Bocchio"
by Carlo Bocchio


"Illustrations ,Sketches ,Comics and Original Art for sale ,about Fantasy,Science Fiction,SuperHeroes,and other...The website contains a gallery of images, personages, originals history, devised from the author."
Updated: 1 month
Email: jackoilrain@libero.it
---
"Curtoons"
by Curtis D. Tucker


"What do you get when you combine Jim Unger and Don Martin? Funny, single panel Curtoons based on the little absurdities of life."
Updated: Mon-Wed-Fri
Email: Curtis@Curtoons.com
---
"The Cyantia Chronicles"
by Tiffany Ross


"Finally... a campus that doesn't deoebd on the students for story!"
Updated: Daily
Email: chatin@nettaxi.com
---
"The daily's"
by travis irby


"Come see the daily's, a daily comic about a so called average family. I also have tutorials on comics and flash, poetry and writing, and a sketchbook section."
Updated: daily
Email: mirby@mediaone.net
---
"Dandy and Company"
by Derrick Fish


"Most 12 year old boys don't find themselves in the bizarre situations Bernard Brooks does. But, then again, most 12 year old boys don't have dogs like DANDY to make their lives miserable."
Updated: Daily
derrick@dandyandcompany.com
---
"Dante's Paradise"
by Yuri Bredle



"It's Paradise time! Family fun coming straight from the epicenter of middle America. And our main man Dante is leading the charge. Piping HOT panel comics every Tues. and Thurs. Enter Paradise."
Updated: Tuesday & Thursday
Email: yuri@dantesparadise.com
---
"Dasien"
by Neil Purcell


"Dasien is a heroine given the gift of strength, speed, and invulnerability through a genetic scientific breakthrough. Her powers make her virtually unstoppable, but will that be enough as she prepares to face the Crimson Gestalt? Dasien contains action, humor, and suspense."
Updated: Irregularly (once or twice a week)
Email: czarlandjunky@earthlink.net
---
"The Dead Speak"
by Heath Rat Su


"The Dead Speak is an irreverent poke at the way we view death and the deceased."
Updated: Most Weekdays
Email: heath_rat_su@mindsunwound.com
---
"Deathworld"
by Rudi Gunther


"It's got silly violence, beer, dumb monsters, killer robots, maverick heroes, beer, evil scientists, annoying villians, goofy chickens and more beer. It's Deathworld - it's better than a kick to the head."
Updated: Mon & Thurs
---
"Desperate Angels"
by Rhonda Patterson
Site URL
"A tale about 5 heros of fortune, destine to save gaia from the Goddess of Destruction"
Updated: 2-3 times a week
---
"devoted bee"
by chad walker


"drawings to bring us together."
Updated: a few times a week
---
"DIABOLICA"
by Adam Burke


"Perfecting the art of miserable failure with the world's dumbest evil genius."
Updated: 3 Times a Week
Email: adsinfinitum@yahoo.com
---
"Divine Comedy 'Press Start'"
by Chandra Free


"Welcome to "Press Start". What is Divine Comedy you ask? Who are these GOD peoples and what's the whole deal behind this odd non-linear story? First off to understand this all you must know that Divine comedy is a comic done by Chandra Free and Justin Thibault. It is a story about a guy named Guy (repitive, no?) who loses his love, Sith unexpectly, and has to go through dream worlds to save her from death. In this world exists higher beings, the GODs. They are the cartoonish versions of the actual creators of this story (hence they are the Gods). So here is "Press Start", a side story, that adds or just tells something completly different about the characters of DC. The 2nd purpose of PS, is to get people intrested in DC. Simple no? It is a weekly comic due to it's size. Expect nothing..."
Updated: weekly
Email: spooky_chan@hotmail.com
---
"dogz"
by Mark B.


"Sardonic/ironic themes that are often uncomfortably peculiar..."
Updated: every friday
Email: dogzine@earthlink.net
---
"Dokie the Dog"
by Tony Ford


"Dokie the Dog is about a dog who lives in a tree and has a DirecTV satellite hook-up."
Updated: Monday/Wednesday/Friday
Email: dokie@dokiethedog.com
---
"Droll Street"
by Marshall Ricks


"Droll Street is a wacky comic about average guy Ralph Wilfa, his cat, Taco... and some other people. In full color, and three times a week!"
Updated: three times a week
Email: maricks@comic.com
---
"Dylan"
by Rory O'Bannion


"The adventures of a young musician and his ongoing struggles of gigging and the price he pays for being different."
Updated: Every monday, wednesday, friday and sunday
Email: thefink81@hotmail.com
---
"EarthLight Productions Gallery"
by Stephen Goodman
Site URL
"The Gallery is where I post my cartoons and illustrations for viewing. My preferred milieu is single-panel, but I do love the multiple-panel format as well. Have a look, let me know!"
Updated: Several times a week
spgoodman@earthlight.net
---
"Economystics"
by Warrior Richardson


"Economystics is a satire of economics."
Updated: weekly
Email: warrior@warriorsplace.com
---
"Eevee's Archer Adventure"
by Eevee


Updated: 2 times a week
---
"Element's Song"
by Allie Manydeeds


"It's neat. And everyone likes neat things."
Updated: daily
Email: zina_cat@hotmail.com
---
"Elktoons"
by Cindi Elkins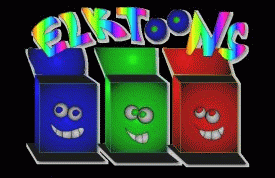 "Elktoons are like a visit to La-La Land....(And you'll have fits of laughter all the way)"
Updated: Bi-Monthly
Email: elktoons@hotmail.com
---
"EricToons"
by Eric Shansby
Site URL
"Eric is only 16 years old but he draws and writes like a pro. Visit EricToons to see his editorial cartoons, comic strips, and other fun stuff."
Updated: 3 times a week
Email: doolittle99@yahoo.com
---
"ERRO"
by Ruben Libgott


"ERRO is a comic tramp created by the young cartoonist Ruben Libgott. The comic is publiced in the Dutch newsmagazine Straatnieuws (Streetnews) which is be sold by homeless people."
Updated: weekly
studio_erro@hotmail.com
---
"Everyone"
by Brian Hsieh
Site URL
"Stupidity you can be proud of."
Updated: 3 times weekly
---
"Evil Love Comic"
by Marc Chenot
"Bonghead and his beer drinking genius pal Simon"
Updated: (Almost) Weekly
---